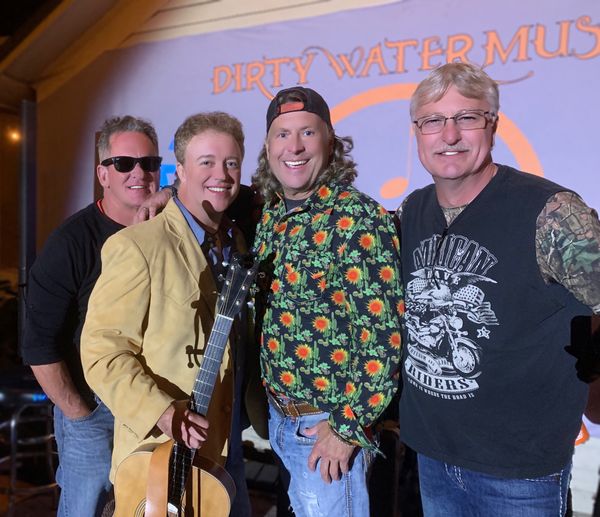 (Photo:  (left to right) John Taylor, Tom Wurth, Ray Burge, Scott Soderberg (of Soderberg Productions)
Dirty Water Music's founder, Ray "Doc" Burge, had a vision and it began when he crossed the Big Muddy into the thriving river town of Le Claire last year. He became attracted to Le Claire with its progressive reverence for the past exhibited by Mike Wolfe's Antique Archeology and American Pickers. 
In an unexpected turn of events, Burge while wandering down Cody Road, came across an 1852 building at #102. Burge's vision started there and grew as he imagined a lower floor intimate performance venue, the main floor with a top of the line recording studio and room for music lessons as well as a backyard filled with live music events. 
Burge's own passion for music and playing pushed him forward to talk with the building owner, Judge John D. Telleen. The Judge, who Burge describes as an active player in Le Claire's progress and one who is particular about what type of business resides in the building saw the value of Burge's vision. Soon the Judge was Burge's neighbor and a friend who has supported Dirty Water Music and its own forward-thinking plans for music in Le Claire. 
It didn't take long for Burge to get Dirty Water Music up and running. To celebrate the new home of the arts in Le Claire he paired up with his friend, John Taylor from outside of Nashville. Taylor, also a doctor and musician suggested he bring in a Grammy Nominated Artist from Nashville, Tom Wurth. 
Wurth is Iowa born with his own appreciation for preservation and the arts. His music reflects honoring classic country music and singer/songwriters in many genres. He has collaborated with a distinctive list of artists including Vince Gill, John Ford Coley, T. Graham Brown, Eddie Money, and others. 
The event was held in the back with an outdoor stage, a gently sloping yard, and an impressive rock-edged terrace. It allowed VIP guests (along with a few that ventured up the sidewalk caught in a wave of the music) to take to lawn chairs and blankets around warming fire pits to enjoy the music. 
Burge and his group, including the dynamic Kacey Russell and friend John Taylor on Cajon, kicked off the show followed by Wurth. Wurth's smooth stellar vocals and engaging personality kept the intimate crowd entertained on a beautiful Le Claire evening. 
If you are still wondering why a doctor had a vision for Dirty Water Music, Burge summed it up best when he said, "Music is about healing. Being a doctor and musician is really not that far apart." 
The vision for Dirty Water Music is just beginning. Look for more events coming soon. 

Visit Dirty Water Music at 102 N Cody Road in Le Claire and check out their events on Facebook @DirtyWaterMusicQC 
A special thank you to Rick Lewis of Dirty Water Music for the use of the photos.