Bridges & Backroads Returns to the Franklin Theatre
Tom Wurth Takes the Stage at the Patsy Cline Classic with Clay Walker
Tom Wurth Joins Billy Dean for Carolina Country Stampede
Tom Wurth at Wilson Performing Arts Center
WPAC welcomes Grammy nominated artist, Tom Wurth
Wed, 09/07/2022 - 6:07pm admin
Tess Nelson
It is a homecoming of sorts for Nashville songwriter and recording artist Tom Wurth, who will perform at the Wilson Performing Arts Center in Red Oak Thursday, Sept. 15.
Wurth was born in Creston and his brother, Bobby, at the Montgomery County Memorial Hospital in Red Oak. His parents, Joe and Peg Wurth, were teachers for several years in the Corning Community School District.
By the time Tom was about ready to start school, the family had moved to northwest Iowa, near the Marcus area. Thomas received his first guitar lesson from his father during an Iowas snowstorm when he was around 6 years old.
"My mom got snowed in at church at choir practice, so it was just my dad, my brother and me. We're talking white out conditions … Dad was sitting there playing at the kitchen table; it was John Denver's Back Home Again, and we were singing along. Dad asked if I wanted to learn how to play the guitar, which he could teach me, or the piano, which my mother could teach me," Tom recalled. "I chose the guitar. He gave me my first lesson that night and that is how it started, and from there, it kept going."
In high school, Tom said the class took a trip to Nashville, where he automatically felt at home. He convinced his parents he'd move to Nashville and attend Belmont University, where he could get a music business degree. He attended college for one year.
"I'm pretty sure my dad knew it was the excuse I needed to get me to Nashville," he chuckled.
With no inclination to continue his proper education, Thomas made his way to Music Row and started meeting people and writing songs, which led to demo singing. By the age of 20, Thomas had been nominated for a Grammy for songwriting.
He signed as a staff writer with Belden, but after a year moved to BMG Music Publishing. At BMG he accumulated two major record label cuts, one for Ty Herndon and Ken Mellons.
"I've had three publishing deals, three singles, three records, and three top 30 hits. We haven't even reached the end of the story yet."
Over the years Wurth has collaborated with Eddie Money, Vince Gill, Billy Dean, Marty Stuart, Clay Walker, LoCash, Billy Currington, Rascal Flatts, Larry Gatlin and many more.
Wurth said when he moved to Nashville there was no back up plan in case things didn't work out. He added, the lessons he learned growing up in the Hawkeye state helped him along the way.
"It was all or nothing for me," he said. "I have that Iowa mentality of always working, always digging deeper.
During his performance in Red Oak, Wurth said he will play songs people have heard of before, play new music, share stories of what's gotten him to where he is today and the music and artists that inspire him.  
"I like to get the audience involved; that is really big for me," Wurth said. "I'm excited to come back to my home state and play for folks. It brings back a lot of memories, and reminds me of where I came from."
Tickets for the Thursday, Sept. 15 show are available by calling the Wilson Performing Arts Center at 712-623-3183. Tickets are $30 for adults and $20 for students.
Tom Wurth Returns to Finke Theatre
Tom Wurth Returns to Le Claire IA
Tom & John Ford Coley Performed in Honor of the Soderberg Family
Tom Wurth at Dirty Water Music
Sennheiser Live Streaming Seminar
2020 Wurthwhile Wednesday Events
Tom Wurth at Leavenworth Heritage Center
Tom Wurth at Sedalia's Liberty Center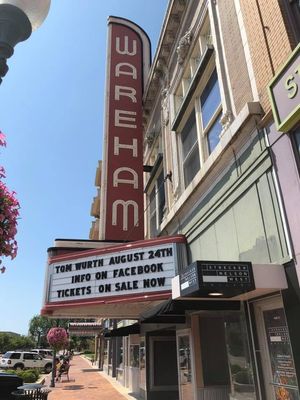 Houston Herald - June 15, 2019
Wurth discusses Saturday performance in Houston By Ed Button - June 10, 2019 - Click to Listen
Tom Wurth Plays the 2nd Annual Bobby Blue Bland Tribute